What is a coworking space?
There's a shifting paradigm in the world work force today. New companies are smaller, local, with high quality services and goods. These  companies with innovative ideas need to compete with large companies with deep pockets. The way these companies work is evolving. They are light weight, adaptable, able to turn on a dime.
The internet has helped to level the playing field for many small companies, but there is still a need for a physical presence, to promote trust and confidence. A consultant can create a home office with the tools he or she needs to build products or work on projects, but sooner or later they become isolated.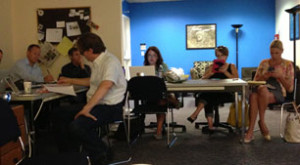 A great good comes from interacting with other like minded people. And sometimes you just need a face to face with your customers.
This is where co-working spaces come in. A co-working space is a place you can come to work in a comfortable, professional environment a few times a month or a few times a week. Co-working spaces will provide you with high speed wireless internet access, comfy chairs, private offices if needed, copiers, printers, faxes, coffee, and other professionals you can kick ideas around with. It's a community even more than a service.
Blank Spaces, located in Los Angeles, has some great  reasons for using a co-working space, and says them well:
Learn more about Ideas and Coffee or Signup Online.