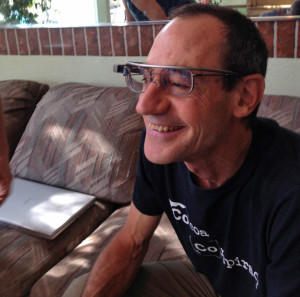 Andrew Stone is the quintessential lone wolf developer, brilliant and quirky. Over a thirty year period Andrew has developed  an amazing collection of Macintosh and iPhone applications, including the infamous Twittelator app, the first Twitter app for the iPhone. (And it's still the best one out there).
Of late, Andrew has been investing time in building a community of local iPhone developers. The Cocoa Conspiracy group started out as a social and networking gathering, happening on Thursday mornings at Winnings Coffee shop. Anyone interested in discussing iPhone app ideas, code, or other tech related topics could show up and chat with an eclectic group of interesting people. When Ideas & Coffee came into being it seemed only natural to invite Andrew and the Cocoa Conspiracy to have some space for more formal conversations and classes. A place where we could throw up some code on the projector screen and dig into how an iPhone app is actually built. In the last year the iOS developer's workshop has become a great place to get code and idea critiques, learn more about building iPhone apps, and meet lots of interesting people with fascinating ideas.  Andrew's easy going style makes people of all skill levels feel welcome, and brings out contributions from everyone. He has attracted a great group of like minded  people who are very willing to share knowledge.
We're really lucky to have such a successful and knowledgable developer who is so willing to share ideas, resources and insights with the community. Thank you Andrew!
Check here to find out more about Cocoa Conspiracy, and join us on the first and third Fridays (10:30-12:30) of the month at Ideas & Coffee.